Aluminium has been recycled ever since the days it was first commercially produced and nowadays recycled aluminium accounts for one-third of aluminium consumption worldwide. Recycling is an indispensable part of the aluminium industry and makes sense economically, theoretically and ecologically. At the end of their useful life, all aluminium products maintain some worth which guarantees that it is likely to create value by recycling them into new products. Efficiency of aluminium recycling thus transforms into high recycling rates for the numerous applications. Aluminium intended for recycling can be described in two categories: new and old scrap.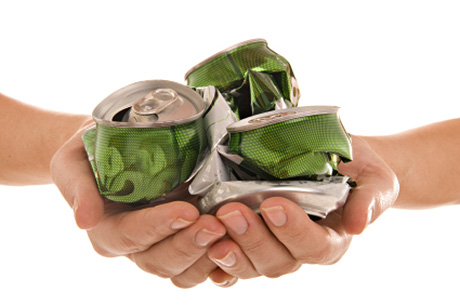 New Scrap
New scrap is the surplus material that is castoff during the manufacturing and fabrication of aluminium alloys. Most new scrap reaching the secondary industry comes straight from the manufacturing industry. It is usually of known quality and structure and frequently uncoated. It can therefore be melted down with slight preparation. 100% of the arising scrap is remelted by the aluminium industry.
Old Scrap
Old scrap is aluminium material that is recovered when an aluminium item has been produced, used and finally thrown away at the end of its useful life. Such scrap could be car cylinder heads, used beverage cans, window frames from a wrecked building or old electrical conductors.
Old scrap comes to the recyclers via a very effective network of metal merchants who possess the technology to recover aluminium from household appliances, motor vehicles, etc. This is often done using heavy equipment like shredders, normally together with magnetic separators to get rid of iron, and sink-and-float installations to detach the aluminium from other materials.
The Products
The recycling of old scrap is usually carried out by secondary aluminium refiners, while new scrap is chiefly recycled through aluminium re-melters.
Secondary aluminium refiners transform most of their materials into foundry ingot, largely based on the aluminium-silicon alloy system with trappings of other metals for instance copper and magnesium. These ingots, fabricated according to recognized national or international specifications, go into the production of aluminium cast components. A noteworthy share of the secondary aluminium refiners' output is also transported in a molten form by road tanker to huge foundry users thus eliminating the necessity for further melting operations. Alloy 'hardeners' are also manufactured.
Scrap Metal Sydney offers the best aluminium recycling services in Sydney. We give our customers maximum profitability and satisfaction! Call us on 02 9707 2955 or visit our website at ScrapMetalSydney.com for more details.